Almost every niche blogger uses affiliate marketing as one of the tools to generate income from his blogs and email list. Only a handful of them manage to earn huge amount of money from their affiliate marketing efforts. There are numerous variable factors that can directly affect your marketing strategy when it comes to selling products on niche blogs. Today, we're going to discuss some of the unique ways to push our existing strategy to the next level to give much higher earnings than expected. Successful affiliate marketing involves building smart techniques that analyze and understand potential buyer's psychology. Let's see how we can leverage this phenomenon to optimize our existing affiliate marketing strategies.


Use Content-based Advert Injection
Generally bloggers prefer to display various kinds of affiliate ads on every post page. This includes text links, small or large banners or widget-based ads in the sidebar. If you really want high conversions, there's no need to fill every single web page with tons of affiliate ads. Content-based ad injection is an excellent way to show targeted advertisements to the qualified buyers. For example, if a visitor lands from Google searching about WordPress theme, there's no point showing him ads about 'Twitter automation tools'. There are several ways we can implement content-based ad serving and it entirely depends on what works best for you.
Category-based ad serving - This is an excellent way to group buyers into different segments and then serving them - the most relevant ads. You can pick a post category and can deliver select ads for that content section to let visitors receive the most relevant offers. The more diverse is your category index, the more targeted ads you can deliver through this technique.
Popular content based ad serving - Another effective method is leveraging the popularity of your premium content that have good search engine presence. Generally, popular posts address demanding issues and are highly targeted towards a section of visitors. You can analyze most popular posts on your blog and can find the most relevant affiliate ads for them.
You can experiment and can invent your own interest-based customer segments to deliver the most relevant ads that work best with content-based ad delivery engine. This ad
personalization brings good results
and significantly boosts your earnings. Some other segments can be tag-based targeting or search engine query based targeting. There are several plugins available to deploy this conditional ad serving. You just need to experiment to find the best combination for your blog.
Use Bridge Pages for Premium Products
Products that are known to perform well and also offer good commission shouldn't be left on the mercy of pre-made banners. Bridge pages work best for such type of products adding more curiosity and desperation to the buyer's intent. This simple yet extremely effective strategy involves creation of dedicated product description pages and then linking those pages with the banners and adverts. In other words, instead of sending visitor directly to the seller's website, potential buyer is first diverted to the custom bridge page and then he is finally pushed towards the actual product page through various call-to-action buttons or text.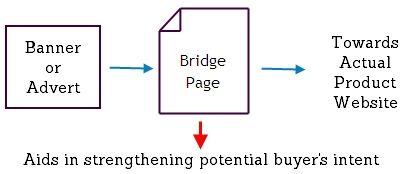 Some may argue that it may lead to low conversions as it involves more than one click for reaching the actual product page. But the reality is quite opposite, provided you do it in a correct way. The whole idea of this strategy is to supplement additional information about the product such that the buyer cannot resist a visit to the product page with a positive intent.
Design these bridge pages for each premium product and include persuasive text with strong call-to-actions. To get the best results, use bullet lists to explain the product's features on these pages. Make sure you consume just a single line for explaining each feature within the bullet list. This technique works quite well in almost every niche. Invest some time in designing these product description pages and divert your visitors to these bridge pages through custom banners placed at targeted locations.
Combine Deadlines and Discounts (Coupon Codes)
Buyers just love to get discounts and you must leverage this tendency to push more sales for a popular product. One of the proven methods of selling more affiliate products is to offer killer discounts within a time frame. Lots of affiliate products (
e.g. web hosting packages
) let you generate your own discount coupons. You can create large custom banners that not only highlight the discount coupon but also mention the deadline.
This triggers more conversions as potential buyers simply don't want to lose the chance of owning a premium product at a discounted rate. Make sure you do not overdo it with every single product you're promoting. It works best when you're using it for select products and that too for short time frames at regular intervals. You must also ensure that your deadline (
time frame
) is of reasonable length and is not overlapping weekend period when sales goes down for almost every niche.
Combine Case Studies and Testimonials
These two elements are prefect candidates for inclusion in bridge pages discussed earlier in this post. Trust factor has always played a big role in successful affiliate marketing. You cannot try and test every single product you're promoting on your blog. But, you can definitely find out and include case studies and testimonials for popular premium products. Sourcing this information is not that difficult for extremely popular products.
You can directly approach product users and can take permission for including them in the testimonials. A good percentage of them will respond positively as they get exposure and reach for free. If you're using a case study in a bridge page, you must supplement it with charts and figures to give some credible insights about the product. While including figures or data in your case studies, do not hesitate to cite the source from where you got the figures. You can also consider including a chart or datasheet within large custom banners to increase the click-through-rate.
If you enjoyed this article, get email updates (it's free).