After the decline of MySpace, Facebook has dominated social networking domain with a staggering growth rate in last few years. Absence of any strong rival boosted Facebook's hold and made it unchallenged player in the market. Google's two attempts to enter social networking domain with Google Wave and Google Buzz was turned down by the people. But wait, we learn from our mistakes, and that's what Google has shown this time.


On 28th June 2011, Google has launched a new social networking service called Google+. There's a clear indication that all the valuable feedback they've got through Wave and Buzz users has served as a road map to create Google+. I'm pretty much impressed by the way they have handled the concerns of people that popped up in Buzz. So, the big question is - "Is it going to be a big hit?" or "Can it dethrone Facebook?". Well, the trends and positive feedback suggests that it will gain wide user acceptance. Facebook is a social networking giant and dethroning it is a herculean task. If Google+ manages to secure mass adoption consistently, still it may take few years before it can give a real tough fight to its arch-rival. I'm active both on Facebook and Google+, but I must admit that some of the features (editable comments, photo-tagging permissions), which I always wanted in Facebook are there in Google+. There are strong reasons that make Google+ a unique and innovative way to connect and share with people.


Strong privacy controls
One of the reasons Google Buzz didn't cut the ice was imperfect privacy settings. Thankfully, well-knitted privacy settings make Google+ a more acceptable and secure platform. Whether it's profile visibility, status updates, photo sharing/tagging or network/friends management, Google+ team has taken care of the most essential privacy concerns that directly addresses leakage of individual's personal information and his online activities. Here's a glimpse of the most essential privacy settings for Google+.

Your circles (friends group) always remain private, i.e., your friend doesn't know that you've just added him to a circle named 'Bunch of Idiots'.
By default, all uploaded images are private.
During a 'Hang Out' session, your video stream isn't shared with participants, unless you explicitly give permission for the same.
Almost every part of your Google+ profile can be customized for visibility. This includes an option to exclude your profile from appearing in search results altogether. Note: Enabling this setting doesn't hide your profile from your internal friends network.
Needless to say, your status updates visibility can be fine-tuned too.
You own your data
Web sites running primarily on user generated content have different policies when it comes to ownership of content. Google+ has a clear-cut policy about ownership of your content. They call it 'Data Liberation'. Every single bit of information generated by you on Google+ can be exported without any hassle via Google Takeout.

Unlike some other data export systems, that bundle all the information in a single archive, Google Takeout lets you choose the service whose data need to be exported. This significantly reduces the archive size and facilitates easy exportation.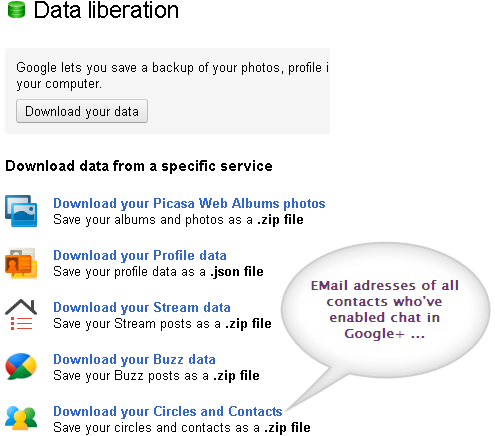 All the contacts on your Google Talk list (irrespective of whether you've blocked them in the past) can be exported along with their email addresses, provided they've enabled chat in Google+. This certainly makes it stand apart and induces trust and confidence among the users. Complete content ownership will be one of the primary attributes that need to be supported by future social networking services. You can delay it, but you cannot hide from it.


Deeply integrated with Google services
Google Buzz was tightly integrated with GMail, but failed to get the user base for two simple reasons. First, the information flow was overwhelming and hindered the regular mailing activities of users, and secondly, it was just limited to GMail. With Google+, the story is quite different. Google has cleverly created a notification bar that is integrated with all popular Google services. It has solved both problems existent in the previous attempts. First, it does not hinder your regular activities, and secondly, you can have quick access to your Google+ events irrespective of the Google service you're using currently.



It's not just the notifications in any of the Google service, but the intelligent use of related services like Picasa web (poised to be renamed as Google photos), and the use of search engine database for giving life to 'Sparks' has made it a win-win situation for both Google+ and it's users. This ensures that existing Picasa web users don't need to separately upload their collection to Google+. Secondly, users don't need to leave Google+ to search for content they want to share with their network. Simply create a collection of 'Sparks' of your interests powered by Google search engine database and get going.


Gorgeous Interface
Web site usability greatly depends on fascinating interface that is easy to use, isn't sluggish and is soothing to eyes. That's what Google+'s minimalistic, yet attractive interface brings to the users. The good thing about Google+'s interface is that it is not densely packed and the navigation is clean and obvious. And the icing on the cake is the speed at which it renders. Probably, it's due to the absence of extra features/services that makes the code heavy, since it's still in private beta stage.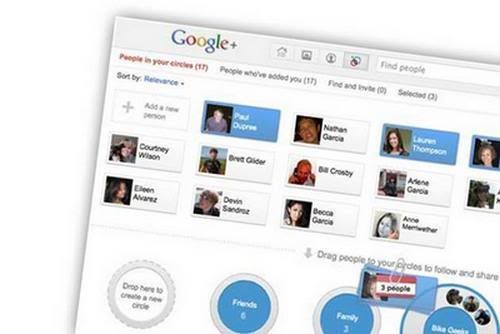 Another striking feature of Google+'s interface is the minimal use of flash and relying heavily on CSS and JavaScript. Overall, you'll never be disappointed when it comes to usability and navigation on Google+. I'm sure a more dense and compact version is coming ahead to accommodate new features that will be rolled out in coming months.


Innovative ways to connect and share
With the launch of Google+, various articles on prominent web sites criticized Google+'s approach of managing friends network. Interestingly, comment threads beneath these articles told a completely different story. Despite initial criticism, Google+ circles have become a cornerstone of this project. People are loving this intuitive and unique way to manage their friends network. Apart from the default circles provided by Google+, users have learned to create more meaningful and necessary circles as per their needs.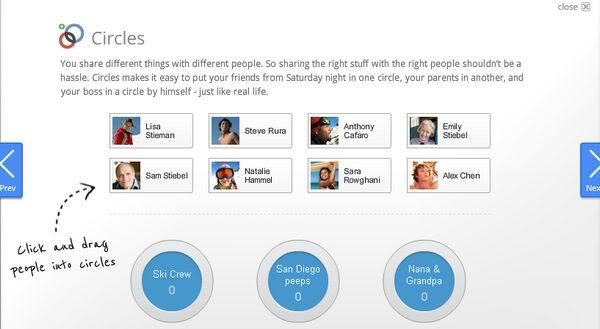 The drag-n-drop feature makes the whole process of segregating users less boring and more of a fun. This doesn't end here. People have already started suggesting a more refined and optimized way to use this feature, i.e., inclusion of circle-in-circle (parent-child circles), overlapping circles (cross-posting with minimum hassle) and much more. Let's accept it, no other social network has managed to come out with such a different and unique approach to manage friends network.


Rocking feedback mechanism
This is yet another feature that makes Google+ stand apart from the rest. I don't remember any other social network giving me the liberty to provide direct feedback through such mechanism. It's not just plain email address or a contact page. As I said before, this time Google is damn serious about user feedback so that no stone is leave unturned to introduce necessary changes in time. In fact, its not just about getting feedback for changes in existing system, but it also serves as a medium to get valuable data to invent and introduce exactly those features that current user base is demanding.

This is a very smart move from Google+ team. The feedback submitting process itself is very interesting. You can highlight the problem area, or you can blackout sensitive information that makes things much easier to elaborate. And make no mistake about it - this feedback system really works. Suggestions that require major changes may take some time, but relatively smaller problems (like a navigation pitfall) are addressed immediately.

So, is Google+ poised to become a major player in the social networking domain? Well, that nobody can predict at this point of time, but one thing is absolutely clear. Google+ is completely different from Wave and Buzz, and the current user base is loving the way it works, i.e., users are definitely pouring in with ideas and suggestions, but by and large, I've not seen a user reporting any privacy breach (Buzz killer), or a major malfunction.

So that's my view of this new social networking service, what about you? Are you active on Google+? If yes, how do you find it different from MySpace and Facebook?

If you enjoyed this article, get email updates (it's free).