Nowadays, visits from various social media sites contribute a large chunk of total traffic received by a blog. We invest lot of our time in social media marketing without analyzing which social media platforms are giving the best results and where we should invest more of our energy to get the maximum benefits. Fortunately, Google Analytics provides some powerful options to monitor social media referrals.


There are several methods to view social media referrals via Google Analytics. Below are the 3 most common methods to see SM referral data. One of these methods requires Firefox add-on, while other one requires a simple filter to exclude traffic other than coming from social media sites.

Method - 1 (Analytics Referral Sites): The first method is the most easiest one. By deafult GA provides statistics for all the referral sites.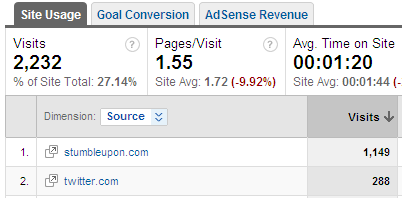 To see this data, go to your analytics dashboard. Select Traffic Sources -> Referring Sites from the side menu. The only extra work required is ignoring non-social media sites present in this report. Normally, social media sites are on top in this report and are easily spotted as shown above.

Method - 2 (Greasemonkey Social Media Analytics Plugin): The second method requires two Firefox add-ons. One of them is the popular Greasemonkey script that works as a driving engine for Analytics social media plugin.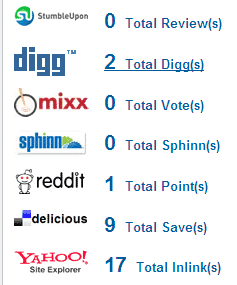 To use this add-on, you must have new ga.js code installed on your blog. Once both these add-ons are installed in your Firefox browser, you can view various social media vote counts directly in Google Analytics reports as shown above. The developers are adding new social media services with each new version of this add-on.

Method - 3 (Custom Segments): Third method uses regular expressions and custom segments to get traffic report of selective social media sites. You can either choose to group traffic from all social media sites in a single segment or you can create a separate segment for every social media site.

Combined traffic in a single segment - To create a segment that shows combined traffic coming from a group of social media sites, follow this simple procedure.



1. Create a new custom segment.
2. From 'Dimensions', expand 'Traffic Sources'.
3. Drag the 'Source' statement to your custom segment.
4. Choose 'Matches regular expression' for 'Condition'.
5. Write the following regular expression in field 'Value'.




linkedin\.com|facebook\.com|twitter\.com|delicious\.com|digg\.com




Separate each site name with a pipe symbol as shown above, prefixing backslash before every dot in the domain name. You can add as many social media sites to it separating each one with a pipe symbol. The only restriction is the length (256 characters) of regular expression allowed in Google Analytics. To accommodate more sites in your expression, you can group them into two parts and can create two custom segments.

Separate segment for single site - The procedure for creating a custom segment for single site is same as shown above. Only the regular expression will change.


Let's suppose you want to create a separate custom segment to track all referral traffic from Facebook. Simply use this regular expression.




facebook\.com




Make sure you have prefixed the backslash before the dot in the domain name. If you want, you can create custom segments for all major social media sites to get a clearer picture about their performance. Remember, if you create too many custom segments and apply all of them in your traffic reports, it may clutter your graph reports.

Once you have created all your custom segments, you can apply them to your regular reports.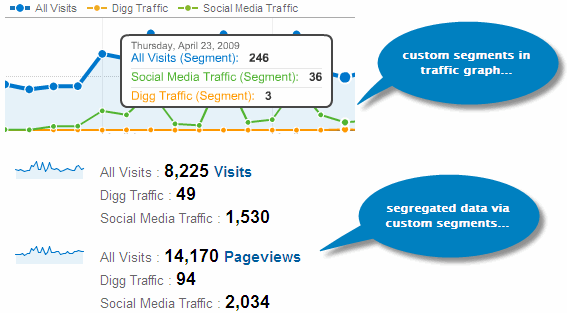 This is how your reports will look after applying the custom segments. You can clearly see all the segregated data giving you a better and clearer picture of traffic trends on your blog. After analyzing this vital data, you can introduce necessary changes in your social media marketing strategy to get better results.

If you enjoyed this article, get email updates (it's free).