Great content automatically attracts quality backlinks. The basic criterion for a web page to rank high in SERP's is the number of backlinks pointing to it. Inbound links from other domains carry more weightage than internal links referring relevant content within the same domain. Keeping this in mind, normally we spend more of our energy in acquiring backlinks from external sources completely ignoring the power of internal contextual linking.



Here we are interested in getting more and more backlinks for weaker pages (non-performing content) in our archives. Since this content is average or below average, there are very little chances of getting quality backlinks (vote for exceptional content) organically.

A non-performing post doesn't necessarily represent poor content. Sometimes, the overall structure and poor selection of keywords keeps the post way low in SERP's.

If you have a large archive, a complete rewrite of all these pages will be a suicidal attempt to revive your blog rankings. So what other options are left...? Buying paid links? Desperate trading of social media votes? The former will make big daddy Google angry and the latter may get your domain banned on various social media sites. In either case, it will be a huge loss. Contextual linking is an ideal option that can give the much-required boost to these non-performing posts. It not only helps in elevating the SERP rankings but also helps spread the link juice evenly across your blog content. Let's see how to do it.


Contextual Linking Fundamentals

The basic idea behind contextual linking is (in-text links) cross-linking your blog posts in a specific manner. This way you are going to increase the number of backlinks for every inter-linked post. Every time you link to a post this way, reciprocity is not a necessity. Successful and effective contextual linking involves careful selection of links crafted according to needs and requirements. There are two basic principles while creating a contextual link.

Right Anchor Text - The selection of anchor text plays a big role in creating a well-optimized contextual link. Since they are created within the normal flow of content, choosing the right keyphrase is extremely important. The chosen anchor text should clearly indicate the topic of content it is going to refer. Do not make it too long (ideally, 2-3 words), and at the same time make sure you have included primary keyword within the phrase.

Content Relevancy (Context) - The second important factor is relevancy of both web pages connected via this link. There should be a similarity or co-relation between the subjects of discussion. The most important area is the surrounding text of the link. The more it's relevant to the referring page, the more is the SEO value of that link. Since your linked pages will be relevant, the probability of a reader clicking that link will also be high, helping in inflating your page views.


Contextual Linking Strategy

If you have not linked your posts earlier, you must do some preliminary analysis to figure out the right linking pattern. An ideal strategy is to link out to weaker pages from the top performing content. This way, you will be passing on link-juice from high-rank pages to weaker content giving them the required boost.

Let's assume you have a popular post about blog monetization with PR4. This post appears on first page of SERP's for several highly competitive keywords. Naturally, this post brings consistent organic traffic for you and will continue to do so for long time to time. Let's further assume that you have two more posts on blog monetization. One of them talks about direct advertising, while other one is all about affiliate marketing. Both these posts receive almost negligible traffic with no presence in SERP's.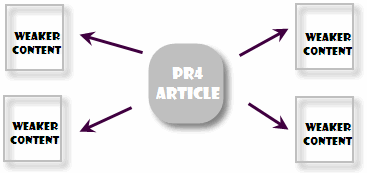 Now you have a perfect situation where contextual linking can be used to spark some life in these dead posts. All you need to do is to link out to these two posts from your high-ranking post. Choose two relevant keyphrases from within the text of this post and create links to the weaker posts. This will not only give added backlinks from a high rank page, but will also divert traffic coming on that page.


Linking Patterns

There are severals ways you can link your blog posts. The two most common methods are:

Random Cross-Linking Approach - In this approach, you have to randomly pick all the related posts and link out wherever you feel a link will serve the purpose. Although this is a cumbersome process, especially if your archive is large, but gives very good results in boosting the rankings and traffic.

Top-Down Approach - The second approach is most widely used and preferred approach for majority of bloggers. I also use this approach. In this method, you normally do not touch your old posts. Whenever you write a new post, you create 2-3 contextual links to older posts in your archive. Here I must stress that just for sake of creating links, do not alter your original article or try to forcefully stuff any keyphrases. Just write your post in normal flow without thinking about any linkouts. Once your post is completed, almost every time you will automatically find scope of linking to older posts.


What's Your Linking Strategy?

I'm sure you do link your blog posts on regular basis. If yes, what is your preferred approach while linking out? Have you experienced any boost in rankings after linking your posts?


If you enjoyed this article, get email updates (it's free).