Social media has completely changed the way traffic was pulled to blogs and websites. The core long-term traffic building concepts still remain the same (organic traffic from SE's), which are now supplemented by social media marketing to get the desired results at a much faster pace. StumbleUpon is one of the most popular social media services that have the capability to bring loads of traffic to your blog. Let's see how to use it correctly to its full potential.

Preparing For The Avalanche

Pulling traffic from StumbleUpon and leveraging the incoming traffic effectively are two different things. Before we dive into stumbling, we must prepare our blog to increase the conversions.

Decent theme and clean navigation - StumbleUpon traffic tends to exhibit impatient behavior and high bounce rate in certain conditions. They are known to immediately leave the poorly designed sites topped with cluttered navigation. So the first step is to fix these two things.

Don't make them wait - It's not just about the appearance and clean navigation. A sluggish theme is the best way to repel StumbleUpon visitors. Tweak your theme and practice speed optimization techniques to make your blog a flyer.

Give some meat to stay - Since SU traffic is volatile in nature, you must have a healthy archive to give them a reason to stay. Highlight your best work close to the main content to increase the probability of a highly engaged visit.

Call for action - Place subscription box and freebie offerings at targeted places. Make them loud to attract the attention of the visitor.


Stumbling All The Way

To get the maximum benefit from StumbleUpon you need to avoid certain mistakes that you may do inadvertently.

When we submit a web page to SU, it goes into main database and may or may not get queued to spread across StumbleUpon community. I'll explain later in a section when your content may not get queued and may get buried forever.

Knit a large net (Tag Wisely) - Generally, we concentrate more on the number of votes a submission may get. Our main concern is to get maximum number of reviews and votes for a submission. Have you ever experienced a submission getting almost no traffic despite getting decent votes? One of the reasons that may dry up the traffic can be - wrong way of tagging. Let's take an example to understand it clearly. Suppose you have written a post about designing a blog header. You happily got it submitted via your friend who tagged it with the following tag (header-deign).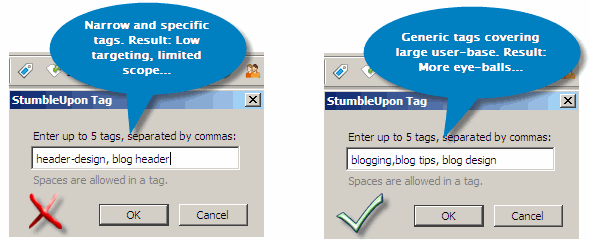 The more you narrow down your tags, the more you limit its reach. Every StumbleUpon user has a set of preferences that suggests the type of content he/she may prefer to receive. Tagging with more broader and generic terms opens the possibility of capturing a larger audience. While delivering the web page, SU algorithm examines the tags a submission has received. Once your submission starts getting reviews and votes, generic tags helps in disseminating your content to larger user-base. Here are some guidelines to tag your submissions properly.

1. Use generic tags.
2. Use multiple tags separated by comma.
3. Do not use more than 2 words in a single tag.
4. Do not give more than 5 tags.
5. Keep them short, clear and unambiguous.

How to make your submission dead - Here's how you can make your submission dead even before it gets its second vote. Open the web page that has not been discovered yet. Now without discovering/stumbling it, use the 'Send to' feature on SU toolbar and ask your friend to discover it. As soon as he obeys you - Boom! This submission will remain in the main database but may not go into queue at all. So the rule of the thumb is - Never ever send any web page using the 'Send to' feature that has not been discovered. Try it once and see the results.

StumbleUpon authority - Needless to say, a stumble from a power-user can bring tons of traffic. Interestingly, if he is not the part of your network and stumble your submission organically, you will receive much more traffic than the other way round. How to build your StumbleUpon authority and how to identify a power user on SU? That's very simple. Look for a profile getting large number of testimonials (Good meaningful testimonials). Now look for his stumbling activity and his reviews. A power user writes descriptive reviews and doesn't limit himself to few chosen topics.

SU Power User = (Large Number of Testimonials + Descriptive Reviews)

Ready to network with some top stumblers? Here's a list of most active stumblers that have earned the status of a power user.

Avoid closed user groups - It is common for people to form a voting group and then vote for each other. When web pages from a domain receive stumbles (first few stumbles) from a group of users over long period of time, gradually the traffic subsides down with each new submission and such voting activity. A time comes when votes from this group has no effect on the submission. SU algorithm is smart enough to detect this phenomenon and to track any such activity.

Reviews are like blog comments - As I mentioned before, writing meaningful and descriptive reviews does help in making the submission go viral. If you are helping your friend then take some pain to write an original descriptive review instead of copy pasting the text from the post.

Timing matters - And last but not the least is the time of submission. This applies to almost any social bookmarking activity. Choose the peak hours to get your post submitted on StumbleUpon. The morning hours of mid-week is the best time to submit content to various social bookmarking sites.

I generally try to avoid stumbling my own content and would advice the same to you. Be an active stumbler, generously submit others' content and give meaningful reviews. They will eventually RECIPROCATE giving you the required spikes in traffic.


If you enjoyed this article, get email updates (it's free).