Since twitter has gone mainstream, the supporting applications and services are sprouting up like wildfire on Internet. Prominent among these applications are twitter desktop clients available for almost every platform. These handy applications help you manage your twitter activities in a much easier way than managing via web interface. Here's a list of select twitter clients for Mac platform.


Some of these clients have cross-platform compatibility and also works on Windows and Linux. The list is arranged in alphabetical order and in no way represent their popularity based on their position in the list.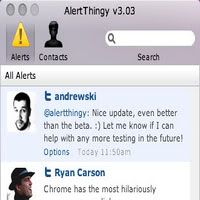 AlertThingy - This excellent application mashes up various social media services into a single application including twitter. Apart from twitter updates, you can also access Facebook, flickr, tumblr and many more such services. AlertThingy runs on Adobe AIR and is available for Mac, Windows and Linux. Business users can also access Yammer, Basecamp and Huddle from this desktop client. AlertThingy is light on system resources and has impressive interface. If you have multiple accounts on these services, AlertThingy can make your life easy with single point of access to keep you updated of all happenings across multiple social media accounts.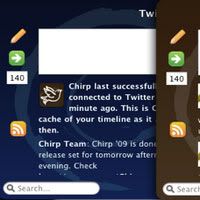 Chirp - Currently, only available for Mac platform. It is very light on system resources and supports twitter, Jaiku, FriendFeed, Identi.ca. Chirp supports multiple twitter timelines (replies, DM's and public timeline). It also supports instant search for all services with caching feature for offline use of your search results. Chirp comes with 6 different themes to suit your taste. I particularly liked the tooltip feature. that will show you the followers count of any user on hovering the mouse on this name. Chrip updates itself automatically with a small size binary making the whole update procedure lightning fast.


EventBox - As the name suggests, it supports multiple social media services (twitter, Facebook, Google Reader, Flickr, RSS, Reddit). Currently, this application is only available for Mac platform. EventBox has stunning interface that fully utilizes your graphic card capabilities making it one of the best looking twitter client. You can freely re-size its fluid interface. EventBox also supports instant notification of all new updates for each of the supported services. You can enable or disable notifications for selective services via settings option. EventBox future versions will also support del.icio.us, Last.fm and Orkut.


Nambu - It is one of the popular twitter clients for Mac platform. Nambu supports multiple twitter accounts and has a good interface. It also supports multi-column view for selective twitter streams. Apart from twitter is also supports FriendFeed and Identi.ca account updates. Groups, filters and twitter search makes it an ideal twitter client for novice as well as power users. It is light on system resources and updates itself automatically. You can open separate tab for every new search for all supported social media services. It shows you actual web site names of shared links via tweets. I'd highly recommend trying this twitter client.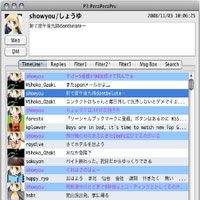 P3:PeraperaPrv - Purely written in Java, this twitter client can run on Mac, Windows and Linux. It supports multiple tabs for viewing different timelines with auto-refresh for each stream. You can customize the appearance (color schemes) of different tweets (replies, DM's). Filtering support allows you to view selective tweets in a separate tab. It also supports URL shortening (tinyURL) to help you share your favorite links. You can also change the application and tweet font size making it ideal for people having vision problems. You can also search and favorite selective tweets from the timeline cache and can group them in a separate tab.


Pwytter - It's a light weight feature packed twitter client written in Python. You can switch to different timelines with a click of a button. Pwytter supports up to 14 different languages and has full unicode support. Timelines are cached for faster response in case of multiple search queries. Pwytter updates itself automatically and have the option of updating timelines either manually or automatically. It is one of the lightest and resource efficient twitter client ideal for low configuration systems. You can use it on Mac, Windows and Linux. It also supports viewing of separate lists of your followers and friends in a scrollable format.


Spaz - It is available for OS X, Windows and Linux platform. Packed with powerful twitter search feature, it filters out selective twitter streams as per your needs. Spaz also has built-in support for URL shortening (is.gd, bit.ly, snurl.com) to share your favorite content with your twitter network. It has multiple themes and also gives you the flexibility to create your own theme via CSS overrides. Spaz is written in pure JavaScript , XHTML and CSS making it completely customizable by users. Audible alerts and separate listing of friends and followers makes it an ideal twitter client for every serious twitter user.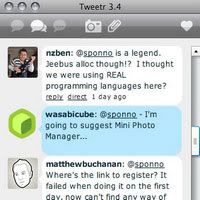 Tweetr - This light weight twitter client is available for Mac and Windows. You can send files of size up to 10MB via tweetr. Just drag the files in tweetr window. It will automatically upload the file and will provide you a short URL to share it with your friends. tweetr has in-built URL shortening (hurl.ws) support. You can freely resize and drag the window to any part of the desktop. It also supports system tray integration on Windows platform. It also lets you share snaps from your webcam with your twitter followers. The file sending option and webcam support makes it stand apart from the rest. TweetIdeal for twitter users who regularly send and receive files from their twitter network.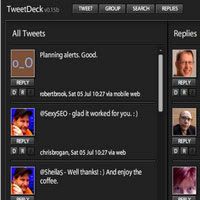 TweetDeck - It is one of the most popular twitter clients with large user-base. Multi-column twitter timelines, powerful twitter search and custom groups makes it an ideal twitter client for power users. It has a rich URL shortening support. You can also update your Facebook account via Tweetdeck. You can also use the TwitScoop cloud to keep you updated about what's hot on twitter. Tweetdeck updates itself automatically and has various customization options including custom colors. The only issue that is frequently raised by users is the memory usage. TweetDeck is available for Mac, Windows and Linux platform.


Tototl - Currently, Tototl is only available for Mac platform. It supports 3 languages (English, Japanese and Spanish). It is one of the fastest and light weight twitter desktop client. Since it uses SSL for connection encryption, it keeps your twitter login credentials absolutely safe from hackers. The future versions may also support custom themes which will be highly customizable by users and native plugins support. Soon its Windows and Linux versions are also coming out. Tototl is ideal for casual twitter users who does not have large number of active followers. It also uses DSA signed updates for maximum security of your twitter conversation.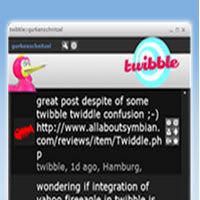 Twibble - This excellent twitter client is available for Mac and Windows. It supports multiple twitter accounts that can be managed as separate tabs. It has in-built location awareness support and can tell the exact location of any twitter follower via Google maps. It also understands GPS positioning sent via twibble mobile. Twibble updates itself automatically and supports keyboard shortcuts for fast and easy account management. On windows platform it can minimize to system tray. It's light weight and impressively fast with equally attractive interface. Tweets are highlighted in different colors depending on their type for easy readability. You can customize various options via its rich custom settings option.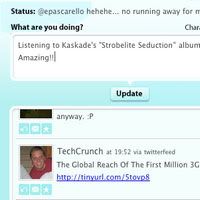 Twidget - Currently, it is only available for Mac platform. This light weight twitter client is ideal for casual users who doesn't have large network of active followers. Some of the features include auto-updating timelines, alerts for new tweets, new version availability alert, links to DM's and twitter contacts and much more. You can also favorite selective tweets directly from within the refreshing timeline. Twidget also allows you to collapse and expand the timeline window at will. Future versions will have Growl notifications, audible notifications, URL shortening support, multiple language support and flexible resizing option.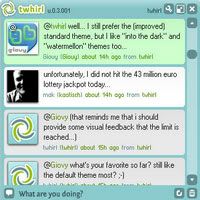 twhirl - This was the first twitter client used by me. twhirl is the second most popular desktop client after Tweetdeck and offers tons of options for every serious twitter user. Custom themes, URL shortening (digg.com, bit.ly, snurl, twurl or is.gd), flexible resizing, audible alerts are some of the features of twhirl. You can do profile as well as keyword search with twhirl. It updates itself automatically and is available for Mac and Windows platform. It can also cross-post your tweets to Jaiku and Ping.fm. You can also tweak twitter API settings according to your activity. It supports multiple languages and several themes. Here's a basic twhirl guide for beginners.


Twitterrific - This twitter client has stunning interface and is light on system resources. It supports multiple twitter accounts and provides access to user profile pages with a single click. It supports audible alerts and keyboard shortcuts. You can also set custom hotkey for showing and hiding tweets. twitterrific also supports deletion of your own tweets and has customizable timeline auto-refresh intervals. Replies and direct messages are displayed inline highlighted with different colors for easy readability. Through custom settings you can also set window auto-hiding. There are two more variants of twitterrific for iPhone and iPod Touch.



If you enjoyed this article, get email updates (it's free).