A lot has been said about this term and most of the text suggests that you should be extremely careful while selecting a 'Saturated Niche'. Is there anything called a saturated niche or it's just an over hyped term? Let's try to understand this term with a different perspective.



Some even use the term - highly saturated niche. What is highly saturated? A saturated state is either saturated or not saturated. That's it. Let's first see what the word saturated means. According to Dictionary.com, in this context saturated means



- to furnish (a market) with goods to its full purchasing capacity.



In other words, it means demand and supply chain has met its endpoints. When this phenomenon occurs, no wise businessman would like to invest in that market which is already overwhelmed to its full capacity.

Now let's relate this to our much hyped term - saturated niche. It is often said that blogging about blogging (meta-blogging) is a saturated niche. If we go by the definition of the dictionary, it means there are almost nil chances of new players to grow in this niche.

But the reality is completely different. In my experience, there is nothing so called saturated niche. I would like to use the term highly competitive niche in place of saturated niche. A niche can be highly competitive but can never be saturated. Every month thousands and thousands of new blogs come up talking about 'Blogging Tips'. A large percentage of these blogs are abandoned pre-maturely and some never grow beyond a certain level. Still a handful of them cuts the ice and make their own place taking their share of the pie.

So where did the saturation go? How do these handfuls of new players manage to pull traffic and make it big despite of blogging about so called saturated niche? The answer is very simple. They generate unique content and have aggressive marketing strategy. Those thousands of blogs who dies pre-maturely suffer from one of the most common and inherent problems of meta-blogging - 'Repeating the same content already discussed on every corner of the web'. In words of Maki from DoshDosh.



Meta-blogging needs to be parasitic in order to evolve beyond its prison of ideas. It needs to latch onto another conceptual field in order to go beyond the thought circle it currently revolves in.


So, in order to withstand a highly competitive niche, these handfuls of bloggers generate high quality unique content. But again the question arises - If there is saturation in the market, from where does the buyers (visitors) come?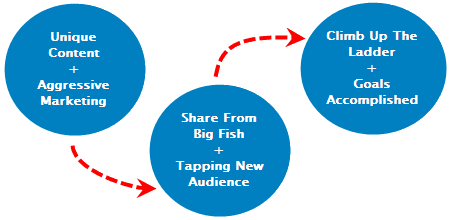 Thanks to never ending growth of Internet users, the raw material (traffic) required to run your blog is growing at constant pace. Today if there are 10 Internet users, tomorrow there will be 12 and day after tomorrow there will be 14 and so on. So we can clearly see that in this case the demand can never dry up.

Now, how does this affect the big fishes on top of the ladder? Well, surprisingly they benefit from this to a great extent. The more competitive quality blogs comes into existence, the more links and references are created to the top blogs. They automatically work as free marketing tools for the big fishes.

So in the end this is the equation.

Highly Competitive Niche -> Never Ending Demand -> Everyone Takes Their Share


Have Your Say

What do you think, in this context a blogging niche can be ever saturated? If yes, how do you see the future of web publishing 50 years from now?


If you enjoyed this article, get email updates (it's free).