Displaying ads on a blog and keeping track of all the granular data related to those ads are two completely different things. Almost all of us are familiar with a simple process of pasting ad code in our blog template. What about accurate and real-time tracking of impressions and clicks? What about the performance of these ads based on demographic data? Here comes the role of specialized ad management software.


There are several ad management software in the market. I chose Google Ad Manager for several reasons. It is free, uses the same proven ad management technology used by Adsense network and offers tons of options for complete ad inventory management. Here are some of the salient features of Google Ad Manager.

Simple User-friendly interface - helps you get started within few minutes after exploring various sections of the dashboard.

Adsense integration - gives you an option of filling empty slots with Adsense ads and an optional smart pricing feature for maximum revenue.

Speed and reliability - of Google's ad serving technology is proven from years of expertise in this domain. As I mentioned earlier, Google Ad Manager uses exactly the same ad delivery technology used by Adsense network.

Cost savings - are guaranteed, as you don't have to pay for anything. You can directly load all your direct ad banners on Google Ad Manager servers giving you significant bandwidth savings.

If you are accepting direct ads on your blog that are blended with ads from different advertisement networks, managing them can be a real headache. Google Ad Manager (GAM) gives you complete control of your ad inventory with maximum possible automation giving you peace of mind. Let's see how to manage our ads through GAM, which includes creating ad, tracking and reporting.


Creating An Ad

To demonstrate an example, let's create an ad with single slot (125x125) containing ads from two different advertisers shown on round robin basis (rotating banners). Let's assume we are going to display this 125x125 rotating banner ad on left sidebar.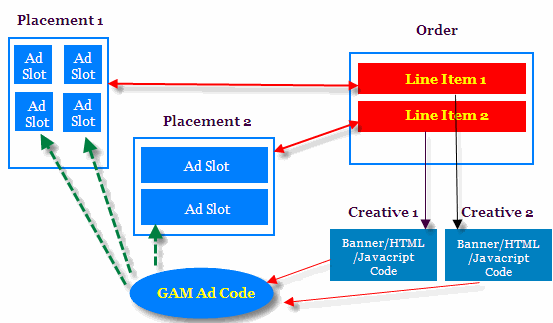 Create New Ad Slot

1. We will start by creating a new Ad Slot. Go to 'Inventory -> Ad Slots -> New Ad Slot.

2. Give a unique name to this slot (for exp: 125x125AdSlot1). Next, select the size 125 x 125 from the drop down menu.

3. Specify the target window for this ad slot. If an advertiser wants the landing page to be opened in new blank window select _blank else select _top.

4. Deselect the 'Adsense' check box to prevent automatically populating this slot with an Adsense ad in case any advertiser does not book it.

5. The other two fields are optional and can be ignored at this moment. Click the save button. You've just created a new ad slot.

Bind Ad Slot With A Placement

Multiple ad slots are grouped together under a single logical unit called placement. Let's associate this ad slot with a placement.

1. Go to Inventory -> Placements -> New Placement.

2. Name this placement (for exp: LeftSidebar125x125Ads). Leave the 'Targeting' check box unchecked.

3. Associate the newly created Ad slot with this placement by clicking the 'Add >>' link in the slots table. Click 'Save' button. You've just created a placement and connected the ad slot with this placement.

Create Order

1. Now it's time to create an order. Go to 'Orders -> New Order'.

2. Name the order (for exp: CompanyName12x25AdSlot1).

3. Specify the 'Start Date' and 'End Date', the period for which ad will be displayed. You can also choose 'Unlimited' for 'End Date' in case there is no fix closing date for that particular ad.

4. Now associate this order with a particular Advertiser by selecting the advertiser name from the drop down box. If you have no record of that advertiser, you can create it instantly from the 'New Advertiser...' link within the drop down box.

5. Rest fields are optional and can be safely ignored. Press the 'Save' button to activate the order.

Create And Bind Line Items For Order

Since we want to display 2 rotating banner ads on a single location (ad slot), we will create two line items for this order. Let's move ahead...

1. As soon as you will save your order you will be given the option to create a line item for that order. Click the 'New line item' link to get started.

2. Name the line item (for Exp: CompanyNameProduct12x125).

3. Choose the 'Exclusive' option for 'Delivery Priority'. This ensures quick delivery of ad without any latency.

4. Specify the 'Start Date' and 'End Date' for this line item.

5. Enter the 'Cost' and optional 'Discount', if any. If you have chosen 'Exclusive' option for delivery priority, you can only provide cost on Cost per day (CPD) basis. To specify cost on Cost per thousand impressions (CPM) or Cost per action (CPA) basis, choose 'Delivery Priority' as 'Standard'.

6. Bind the line item with appropriate placement by choosing it from the placement table.

7. Leave the optional 'Targeting' criteria as it is.

8. Select 'Delivery Rate' as 'As fast as possible'. Select 'Creative rotation' as 'Even' to ensure equal impressions (rotations) of both banner ads in a single slot.

9. Click the 'Save' button and repeat the same process for second line item to be made for banner ad from second advertiser.

Define Creative For Each Line Item

After creating both line items, the final step involves providing details of banner images/Landing page URL's/Script/HTML code to create the actual advertisement.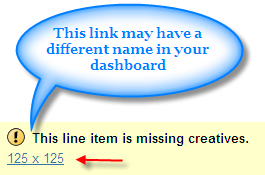 1. Click the first line item draft from the table and click the link in yellow box asking you to create a 'Creative' for this line item.

2. Give an appropriate name to the 'Creative' and select the ad slot size (125 x 125 in our case).

3. There are several options for 'Creative Type'. The most common three are explained here.

Rich Media - option is selected when all you have an ad delivery code. If your advertiser is providing the JavaScript code, choose this option and paste it in the 'Code snippet' text box.

Standard image hosted - option is used whenever you only get the banner image and click-through URL from the advertiser. Upload the image and provide the click-through URL to complete the process. The image will be hosted on Google servers saving your's and the advertiser's bandwidth.

Standard image redirect - option is used when image is hosted on advertiser's server or on any external image hosting service. In this case, just provide the image and click-through URL.

4. As soon as you will click the 'Save', you will be presented a new button 'Approve and activate'. Pressing this button will activate the order and the associated line items and creatives. Repeat this process to create a second creative.

Generate HTML Ad Code

After completing all the steps, you can generate the ad code and paste it in your blog template to start serving the ads. Here's the process...

1. Go to 'Inventory' and select the appropriate ad slot. Now click 'Generate Sample HTML' to generate the entire HTML code.

2. The code will be divided into two parts: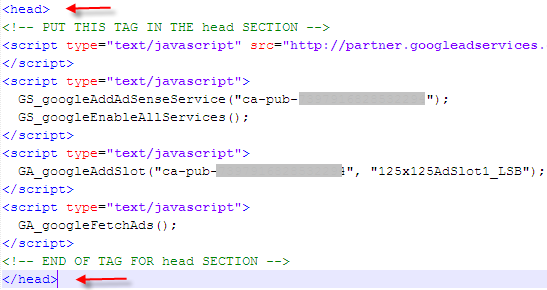 Header code - As the name implies, this code will be pasted between <head> and </head>.


Ad delivery code - This code should be pasted on the actual location in the body of your template where you want the ad to appear.

After pasting the code, it may take up to 10 minutes before ads start appearing on the web page.


Tracking And Reports

Google Ad Manager has a rich reporting module giving you extensive details about ad performance, order status, impressions, average eCPM, Revenue, Clicks and much more.

Two most common report groups are Delivery Reports and Inventory Reports. You can automate the report creation and delivery process (via email) so that you can keep yourself updated about ads performance without leaving your inbox.

Related Reading:

1. How To Get Direct Advertisements For Your Blog
2. Ad Inventory Management For Bloggers: A Comprehensive Guide


If you enjoyed this article, get email updates (it's free).