Archives page is present in almost every single blog and is one of the most prominent links in the navigation bar. This page has the power to influence, create trust and convert the traffic. A well-designed archive page can do wonders in gaining the trust of a reader and bringing him/her back to your blog on regular basis.



About 50%-70% visitors who spend more than a minute on your blog are more likely to click the archives page link. If a visitor finds your article interesting, he will eventually head over to archives page to look - "What else is on offer?". A perfect archives page can easily quench his thirst and can further go beyond that by presenting him the hidden gems in your archive, which eventually will lead to trust in you and your blog's content. Let's see, what it takes to make a good archive page.

There are some common and essential ingredients of a good archives page. I'm going to list the general pattern, though you may create a completely different design, but the core components/content will be more or less similar.


Yearly Archives

Every archives page can be divided into some very important sub-sections. One of them is the Yearly/Monthly archives section. This section gives the convenience to jump to posts of specific month or year.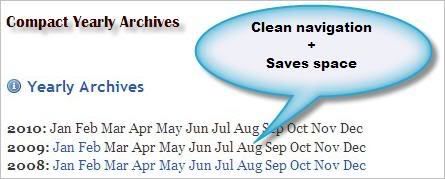 An example is shown above consisting of monthly archives segregated on yearly basis. I prefer to use this approach because of some inherent advantages in it.

Clean and unobtrusive navigation structure - The link structure in this format is fairly simple and creates no confusion in the mind of the visitor. At a single glance, a visitor can easily jump to archives of desired month/year.

Saves lot of space - The horizontal alignment of monthly archives saves lots of space. Even if your blog is 10 years old, still a visitor can see all the monthly archive links without the need to scroll the page. This increases the probability of clicking on the links and helps in keeping the reader glued to your blog.


Categories Highlights

Yet another very important section to keep the readers engaged. In this section, you get the opportunity to highlight the BEST content of your blog.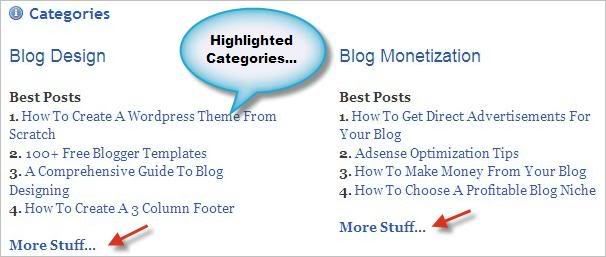 Choose the top 4-5 popular posts from each category and provide links to these posts in respective sub-section. Make sure to add the 'More...' button at the end of each sub-section to encourage the visitors to further navigate the respective category. Arranging the categories in 2 or 3 columns saves the space giving more room for other sections.

Keep updating this section - Once in a month, review this section and update the highlighted posts with new updated popular posts in each sub-section.


Posts Listing (Reverse Chronological Order)

Some visitors prefer to browse all the posts in reverse chronological order. Why leave them disappointing, when you have all the cards at your disposal.


As shown above, creating this list is very easy. All it takes is dividing the sections on the basis of month and providing links to posts in reverse order (kind of a LIFO stack). However, if your blog is very old with massive archive, this list can become very long.


Search Box

And last but not the least is the search box for a hungry customer. If all of the above sections fail to provide the content a visitor is looking for, you can give him a chance to manually type a keyword or phrase to display relevant posts containing those keywords and phrases.



Even though a large number of visitors will use it sparingly, still it's a must have section of any blog archive page.


What Else I Have Missed?

What else you would like to add in your archives page? Do you prefer to have a dedicated archives page or prefer to give monthly archives links in sidebar?

If you enjoyed this article, get email updates (it's free).