'Ad Blindness' is a phenomenon in which visitors consciously ignores the presence of advertisements on a web page. This leads to reduced click through rate (CTR) and affects your earnings. If large chunk of your visitors are returning visitors and if you have not done anything to prevent this phenomenon, you can loose significant amount of your earnings. Let's see how to deal with this situation by some simple palette rotation tricks.


I still remember when I first started using Digg. In the beginning, I used to pay attention on the top right rectangular ad on the home page of Digg. Gradually I completely forgot the presence of this ad. This is called 'Ad Blindness'. Now it only attracts my attention, when some new sparkling ad is placed there. So, the solution lies in constant change of ads.


Change Is Good

How about taking same porch egg in breakfast for years without any change in the menu? And what if you get same boring TV episode week after week without any break? Not feeling good? It's a common human tendency to ask for change when we talk of consumable goods. That's why companies roll out new and multiple color models of their products. Same rule applies to advertisements on our blog.


Palette Rotation: The Key Is In Your Hands

Ad palette rotation works on a simple principle. Every time a web page is refreshed, a new ad with different color combination is served to the reader. This catches the attention of the visitor and clicking probability increases dramatically. Let's see how to implement this technique with Adsense advertisements.

Creating a multiple palette Adsense ad

For creating a muli-color rotating ad in Adsense, go to 'Adsense for Content' and select the 'Ad Type'. Once you reach the 'Choose Ad Format and Colors' option, select the 'Use multiple palettes...' option from the 'Palettes' drop down menu.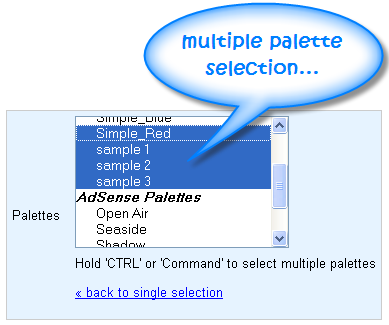 Hold 'Ctrl' key and select up to 4 different palettes. If you want, you can choose just two or three palettes. It is always advised to choose all the available 4 palettes for maximum benefit.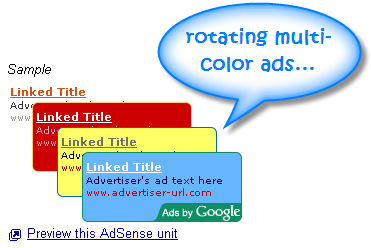 Once you have selected all the palettes, you can see its preview as shown above in the example. In this example, we can see 4 different palettes that have been chosen for a single ad. All these palettes will be used by the ad in round robin fashion on subsequent refreshing of web page. It means, if a visitor refreshes the page 4 times, he will see different color ad one after another from these 4 palettes. This will automatically divert his attention to this change and clicking probability will increase.


Be Careful

Sometimes, newbies overdo in enthusiasm by combining very flashy palettes. This can prove fatal and may drive away visitors. Always create eye soothing color combination that gels well with your blog theme. First try them on a test blog and take feedback from some of your fellow bloggers. Once you are sure that the generated palettes will not repel the visitors, transfer the rotating ads on the main blog.

If you enjoyed this article, get email updates (it's free).