Content theft has always given sleepless nights to webmasters and bloggers. In recent years, with the development of RSS technology and automated feed scrapping CMS (Content management System) this problem has become graver. Let's see how to deal with a scrapper with minimum efforts.



You've developed a nice blog and piled up massive quality content working diligently month after month. Suddenly one day you discover that a scrapper has replicated your entire blog. You tried to contact the blog owner but all in vain. You have no time to write long mails and to fax long documents to concerned authorities. Well, here is an excellent way to quickly report scrapping incidents to Google and Adsense without the need to send any FAX.


Reporting To Adsense

If the scrapper is displaying Adsense advertisements on his blog, then half of your job is already done. Find the 'Adsense Ads Feedback Links' beneath the ads as shown in the image below.



Interestingly, this link has a unique property of tracking the original source (blog/website) from where you have clicked it. Clicking this link will land you on a page asking for subscribing to Adwords and Adsense. Scroll down and find the following link at the bottom of the page to give your feedback about the site or advertisement.



Clicking this link will open up a questionnaire to get your feedback. Click 'Also Report a Violation?' link as shown below.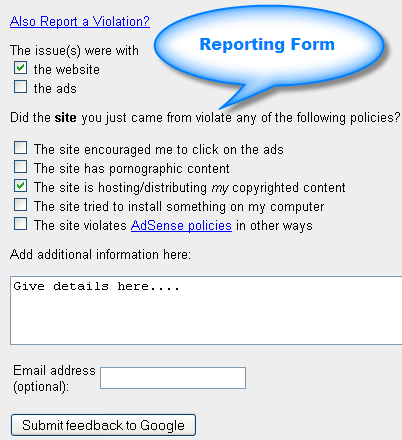 The questionnaire will ask you whether it's an issue with website or ads. Selecting website will open a multi-choice option. Select 'The site is hosting/distributing my copyrighted content'. As soon as you will check this option a blank text field will open up to give details about your complaint. Here you can give your details including links of original content vs infringed content. After filling all details, give your e-mail address and send it to Adsense team. You just saw that there was no need to fax long documents and everything was pre-formatted ready for you. This whole exercise will just take your 5 minutes.


Reporting To Google

So after reporting his advertising partner, it's time to get him kicked off from Google's index. This can be a big blow for the scrapper's blog. Again in this case there is no need to send long emails or fax. Google has an excellent Spam Result Reporting Form, through which you can report scrapper's blog appearing in Google SERP's. Follow this link and you will be provided a reporting form to inform about spam entry in Google search result. Make sure to check the Duplicate site or pages option while filling up the information. Again, this whole exercise will just take your 5 minutes.

Update: Now you can file a DMCA complaint for a splog on Blogger platform via online contact form. This only applicable to blogs scrapping content on Blogger Platform. For other blogs and web sites you have to follow regular DMCA notice procedure.


Over To You

Have you ever been the target of scrappers? If yes, how you dealt with them?

If you enjoyed this article, get email updates (it's free).