As your blog's archive grows in size, so does the need to update, improve and optimize old entries. If you develop the habit of identifying dead content on your blog and keep reviving it frequently, you can pull back all the traffic that you were losing prior to optimizing your old content. If your blog's archive is huge, reviving exercise can prove to be a very cumbersome process. Let's see how to get this done effectively with minimum efforts.



It is very essential to first divide your archive in two broad categories.

1. Best content getting highest traffic.
2. Content receiving no traffic or with very high bounce rate.


Identifying Top Content

You may ask, "What is the need to waste time with content already getting high traffic?". Well, by researching and observing common traits of the most successful content on your blog, you will get an important database of valuable information that will help in rejuvenating and optimizing the non-performing content.

Use Google Analytics to see the best performing content on your blog. To get that, go to your blog's GA dashboard, and then go to 'Content -> Top Content'.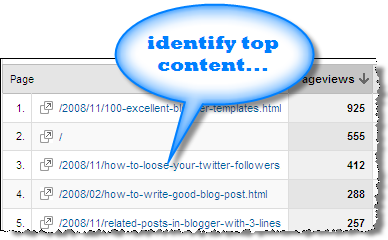 This report gives you the list of posts arranged in ascending order based on the number of pageviews in a given period of time. Examine top 10-30 posts and try to figure out the following information.

1. Avg. post length
2. Use of images
3. Topics
4. Keyword density
5. Avg. outbound links

By investing some time in this exercise and by gathering this vital data, you can better assess and rectify the mistakes done in non-performing entries, and can correct them in a more effective manner.



Identifying Non-performing Content

To identify dead content, simply generate the same 'Top Content' report and look from bottom to top.

Important: While viewing this report from bottom to up you will find many entries of top performing posts, which can confuse you. If you will hover your mouse on that entry you will see the url containing additional parameters as shown below.


/2008/11/100-excellent-blogger-templates.htm?s=green+flower&x=0&y=0


Simply skip these entries and keep moving upwards and pick those entries with no additional parameters at end as shown below.


/2008/05/useful-webtools-resources-for-blogger.html


These entries with no additional parameters in url are non-performing entries while moving from bottom to top. Make a list of these posts and divide them into equal parts. Every month end, take one part and work on it.


Optimizing and Rejuvenating Non-performing Content

At this point, we have our list ready in our hands and we can start updating these old non-performing posts.

Adding Images To The Post (Making Posts More Sticky)

Adding illustrations in posts make them more readable and sticky. Identify posts with no images and add relevant images to these posts. Make sure you do not overdo it.

Identifying and Removing Dead Links (Addressing Visitor's Annoyance)

This is one of the most important tasks to do while modifying and improving old posts. Dead links can hurt your hard earned reputation and you can loose countless potential subscribers.


The simplest way to find the dead links is to use 'Google Webmaster Tools'. Once you have identified these links, there can be two possibilities while handling them. Either to remove them completely or provide a new alternate link. Depending on the situation and the availability of alternate link, you can modify or remove these dead links from your post.

Updating Old Paras (Change of Opinion)

With passage of time, your opinion may change on any subject. Updating old paragraphs voicing your changed opinion can spark a life in your old post.

Adding New Paras (New Developments)

In several posts, you may want to add some new content supplementing the new developments that have taken place since that post was published. When adding some extra content, you can mention 'Update' in bold letters, but it entirely depends on your choice. I prefer to inform my readers that I am adding an update to the post. This makes them aware of new content and also gives them the feeling of getting fresh updated content from my blog.


Over To You

Do you update old non-performing content on your blog? If yes, what other methods you use to update them?

If you enjoyed this article, get email updates (it's free).