Distributing blog feed and keeping track of all the subscribers is one of the important tasks a blogger performs every day. Generally, distributing raw feed via direct link of rss feed isn't the right way to do it, because you do not get any information about your subscribers, or any demographic or statistical data about your feed and subscribers. Here comes the feed boosters and feed distribution services like FeedBurner and FeedBlitz. Let us see how to set up and configure a blog feed in FeedBurner.

FeedBurner is one of the most popular feed aggregating and distribution service. It offers tons of features at no cost.


Burning The Feed

Wordpress and Blogger, both have different addresses for posts and comments feed. Normally, bloggers only burn posts feed for their subscribers, but in case you plan to distribute or showcase your blog comments, then you can also burn your blog's comments feed.

Burning Posts and Comments Feed

If your blog is on Blogger platform, you will find your blog's posts and comments feeds at this address.



http://yourblogname.blogspot.com/feeds/posts/default
http://yourblogname.blogspot.com/feeds/comments/default



For Wordpress blog, the posts and comments feeds can be found at this address.



http://www.yournlogname.com/feed/
http://www.yourblogname.com/wp-commentsrss2.php




To burn a feed, simply type in the address of the feed in the feed burning box provided in the FeedBurner account as shown in the image below.



If you are unsure about your blog's feed address, you can also type the URL of your blog and FeedBurner will automatically detect the available feeds.

Set Up Feed Title and Feed Address




Next step is to give a proper title and address to your feed. The title given here will appear in posts distributed to your subscribers, so choose wisely. By default, FeedBurner will automatically create the feed address using your blog name and title, still if you want to choose a different feed address, you can freely edit it. In our exmaple, the feed address will be
http://feeds.feedburner.com/FeedburnerTestBlog


Activate FeedBurner Stats

Now click the 'Activate Feed' button and again 'Next' button.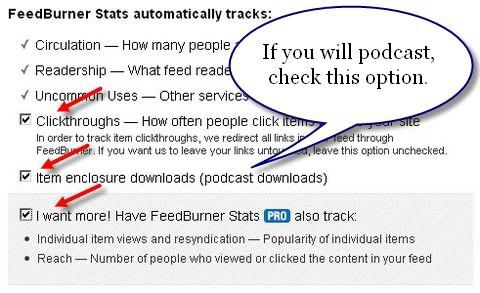 Now is the time to activate FeedBurner statistics for your feed. Click the required check boxes as shown in the image above. The first and third option should be checked for getting stats about clickthroughs on your feed and third option gives you all the advanced statistics via 'FeedBurner Stats PRO', which is now free for all FeedBurner users. Click the 'Next' button and you're almost done.


Configuring Options For Better Feed Distribution

Once the feed is burnt, click the Optimize button in the menu to configure feed pinging, feed visibility and various other options.

1. Click the FeedFlare option to include interactivity within your feed, so that your subscribers can tag, email, distribute or bookmark the posts easily.



Tick the flares you want to add at the end of your posts. Normally, bloggers add social bookmarking flares to help promote their content on social media sites. You can also insert third party FeedFlares to your feed.

2. Go to Publicize tab in menu and select the 'Email Subscriptions' option. This is one of the most important configuration for settings up feed distribution via email for subscribers. Click the 'Activate' button to start this service. It has 4 sub-options viz., Subscription Management, Communication Preferences, Email Branding and Delivery Options.

(i) Subscription Management:

This option provides the necessary code for subscription form/link for providing the subscription facility via Email or feed reader for your readers.




Simply, copy and paste the code at the required place in your blog template. If you are good in CSS, you can also customize it to seamlessly integrate with your blog theme.



(ii) Communication Preferences:

Normally, you will not need to edit this option. It gives you the flexibility to edit the Email template sent to potential subscribers for confirmation of the subscription. If you want, you can edit it to suit your needs.

(iii) Email Branding: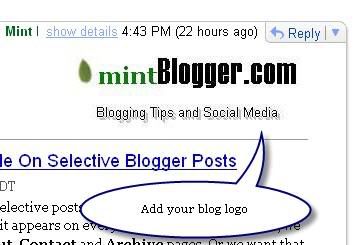 As the name suggests, this option can be used to add your logo to the posts feed and brand it for better reader experience. Not only it gives a professional touch to your feed, but makes it more sticky for your readers. To integrate the logo and must upload it to your blog or some free file hosting service. Just provide the URL of your logo and it will be automatically integrated with your feed. You can also change the font, color and style of your post body to give it a unique look.

(iv) Delivery Options:

This is yet another extremely important setting, that schedules the mail delivery for the subscribers. It is very vital, when your subscribers get the fresh content from your blog. The ideal time is in the morning just before people reach office (i.e., Between 7:00 AM to 9:00 AM). For properly configuring this option, a blogger must know, in which part of the world most of his subscribers live.


Let's take the example of my blog. Almost 90% of my readers are from North America and I live in New Delhi, India. I must set the delivery time, such that my posts deliver in morning between 7:00 AM to 9:00 AM time of North American continent. For that I have to set the following two settings.

For TimeZone:

(GMT +05:30) Chennai, Kolkata, Mumbai, New Delhi

For Scheduled Delivery Time:

5:00 pm - 7:00 pm


3. You must also configure the pinging services for your blog. Choose the 'PingShot' option and select up to 5 pinging services from the drop down menu, apart from Google Blog Search Pinging Service and Ping-o-matic. The most popular services are Alexa, icerocket, Blogdigger, FeedBlitz and Feed Crier. Activating this service will ensure that whenever some new content is posted on your blog, major blog search engines and feed aggregators are notified about this update, so that they can gobble up the new content and help spread your feed across the net.

3.

If you want to show the number of subscribers you have, you can get the code from the 'FeedCount' option. I would suggest you not to show your subscriber count, until it reaches in 3 figures.

3. Give your readers the flexibility to subscribe your feed in their favorite feed reader. For that choose the 'Chicklet Chooser' option.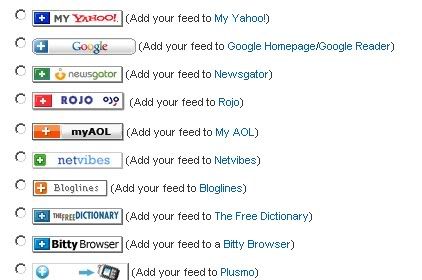 Some readers prefer to subscribe to your feed in their favorite feed reader application. Choose the most popular feed chicklets and copy paste the code at the desired place in your template. The most popular feed reading services are Google Reader, My Yahoo!, Netvibes, Newsgator and Bloglines.


Exporting Feeds via OPML File

You can also export all your burned feeds via OPML file, so that they can be easily imported in any feed reader application.


Importing OPML file in Google Reader

1. Open Google Reader http://www.google.com/reader
2. Click Settings on top menu.
3. Click Import/Export tab.
4. Use the Browse button to upload the OPML file.
5. Done.


Over To You

Do you think distributing your blog's feed via third party application helps in promoting the blog?

If you enjoyed this article, get email updates (it's free).