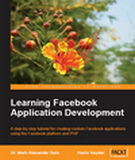 Facebook is undoubtedly the most popular social networking service on Internet with millions of members from across the globe. Apart from native services, users are very fond of 3rd party Facebook applications created by developers for the Facebook community. These applications add that extra pinch in your profile and give you added services to enhance and grow your presence on Facebook. Recently, Hasin Hayder and Mark Alexander Bain have released their book entitled 'Learning Facebook Application Development', available from Packt Publishing which provides in-depth coverage of Facebook application development, whether its a minimal basic app or a complex multimedia application. If you have working knowledge of HTML, php and SQL, you can easily develop your own data driven Facebook applications after reading this book. The book can be broadly divided into three parts. viz.,




Facebook application development basics




Creating, customizing and launching the application




Advanced concepts and multimedia Facebook applications



Facebook Application Development Basics

The first two chapters give you detailed coverage of Facebook application development fundamentals. In this section, you will be introduced to various Facebook API's (Application Programming Interface) and various other tools that are the building blocks of a Facebook application. This section guides you to create a basic Facebook application in a step-by-step method.


Creating, Customizing and Launching the Application

The next section covered in chapter 3 and 4 will take you to hard-core Facebook application development. In this section you will learn how to access and crunch the data associated with Facebook dashboard, user profiles and important database at the back end. This section makes you familiar with important database concepts related to Faceboook application development.

After going through this section, your application will be capable of creating Facebook users, querying data from facebook and updating the dashboard with the fetched data. Syncing of application data between front end and back end is also covered in this section. You will also learn to use Facebook security model (authentication, logging), which will help you in making secure and functional applications that users can trust.


Advanced Concepts and Multimedia Facebook Applications

The last section, which is relatively a large one and is covered in 5 chapters, explains an array of advanced concepts like creating interactive application, interface programming, feed integration in application, integration of invitation and notification service and integrating multimedia content with application (uploading, downloading and sharing of photos,audio and video files).

You will also learn to create discussion boards, integrating commenting feature and creating & sharing photo albums. Extensive coding examples, and use of helpful illustrations have made this title a must buy for every developer who wants to create stunning Facebook applications with ease.

The book also has a sample code of a simple Facebook application for the readers in downloadable zip format, so that they can start developing their own application quickly.


Who should read this book?

If you are planning to develop your own Facebook applications, then this book is for you. The book will guide you in creating, managing and customizing your own Facebook application by using the available tools for developers. Working knowledge of HTML, php and SQL is required to develop Facebook applications.




Book:

Learning Facebook Application Development


Paperback:

218 pages [191mm x 235mm]


Publisher:

Packt Publishing (May, 2008)


Language:

English


ISBN:

1847193692


ISBN-13:

978-1-847193-69-8
Also available as an e-book from Packt Publishing

If you enjoyed this article, get email updates (it's free).