We get massive amount of raw data through various tracking scripts we integrate with our blog. Normally, a novice blogger may be only interested in the number of visitors he is getting each day. But there is much more than that, which can be used in making our blog a better experience for our visitors. Crunching this raw data and mining out that valuable information needed to optimize our blog is what should be our ultimate goal. Let us see how can we dig out useful stream of information from the data generated by these wonderful scripts.



Almost every blogger use Google Analytics as one of the tracking scripts, so I will be using it while discussing about various examples.


Hits

In first part, we will discuss about 'Hits' a blog receive in a given time frame.

Hits/Hour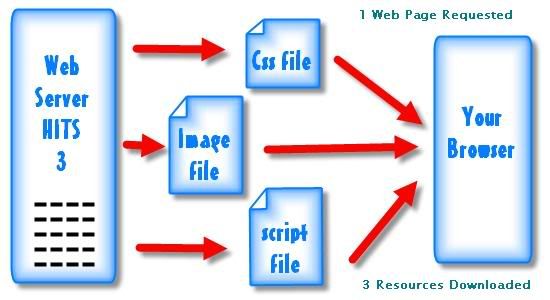 The most misunderstood metric is 'Hits' on your blog. It is often confused with 'Visit'. Whenever you visit a web page, several files may be downloaded from the web server to properly render a web page. It may include css files, javascript files, image files, flash files and other miscellaneous resources. Every time a resource is requested from the web server, it is counted as a 'Hit'. So, a single web page request may result in 5, 10 or may be 100 hits, depending on how much resources (files) a web page is using.

Normally, hits are calculated on per hour basis using the following formula.



On high traffic blogs, it is calculated as hourly rate, while a low traffic blog may be more interested in getting the hit rate on per day basis.


Usability of This Metric

1. What purpose does this metric solves?
2. How it can be used to optimize the blog?

Well, lets take an example of a high traffic blog hosted on a dedicated server. We all know that there are some selective days in a week when we get the most traffic, and some peak hours in a given day when traffic is highest. The hit rate helps in accurately measuring the busyness of web server segregated on hourly basis. Have you ever encountered this error - 'Server Too Busy. Try again later', while visiting a web page? It means that the server has reached its threshold of catering the number of parallel requests at a given time.

Here I must stress that for accurately determining the trend you must take good amount of data. The hit rate can easily tell when the web server was most busy in catering the requests. Remember, CPU load threshold is a different thing and should not be confused with web server's request catering capability. Hit rate is concerned with the latter capability of the web server.

It tells you when most requests were made to the server. A good blogger may inspect the log files for that hour for any HTTP 500-13 errors (Serve Too Busy) errors. Once the peak request hour is found, a blogger may tweak the server settings (load balancing etc), so that no more such errors persist. Hit Rate is a very important metric for high traffic blogs and web sites.

In next part of this series, we will discuss about 'Sessions'.

If you enjoyed this article, get email updates (it's free).