If you want tons of traffic for your blog, all you need to do is to create Digg friendly (viral) content. Creating viral content is an art and comes by experience. Digg is by far one of the most popular social media sites that can bring tons of traffic and huge exposure for your web site. I have seen many web sites performing exceedingly well on Digg consistently. What's the secret recipe behind it? Let's try to decode the process of winning the hearts of Digg community.


Write For Larger Audience

The digg community is very large with different tastes and preferences. Content created for the masses are always a hit on Digg. Narrowing your content's niche leaves little door for it to be appreciated by a larger user base on Digg. Nobody is going to show any interest in your post about 'Rice Shortage in Somalia'. Pick topics that are concerned with almost every one. Breaking news, death of celebrity, new product launch, resources, humor, balanced criticism, controversy on hot topic, tutorials, amazing videos and latest gadgets, all these have the potential to go viral on Digg. But it all depends on how you package it. Spice it up with bullet lists, related illustrations, relevant quotes and link to related resources and see the difference.


Create Original 'List-Based' Content

List-based resources are known to perform well on Digg. Do a comprehensive research on the topic, and compile an original list of resources spiced up with relevant illustrations. Do not hesitate to link out to resources. The more you will give, the more you will get back in return.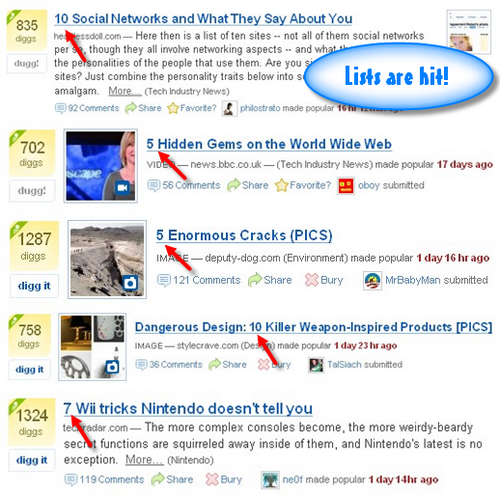 Break the News

Breaking some news can make you overnight star. Normally, big web sites and blogs receive this news from their contacts and channels, and manage to break it before anybody else do the same. Still, you can set Google alerts and can try to post some fresh news. If you manage to capture one such post, rest assured that the dividends would be beyond your imagination.


Craft Eye Popping Headlines/Titles

Headline is what makes the first impression about your posted content. If you browse through Digg archives and see top content headlines, you will notice that they have some common traits inherent in them i.e., they are spicy, eye popping, generates curiosity or are controversial.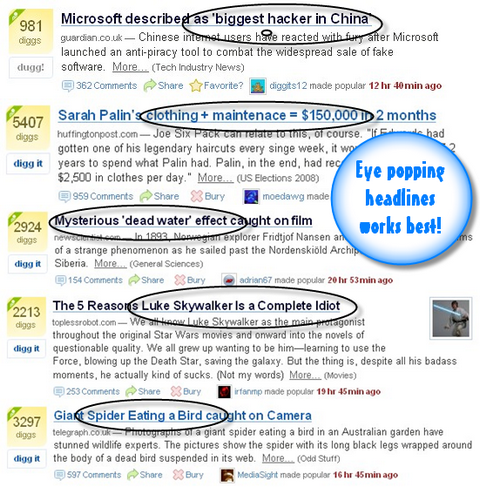 While submitting content to Digg, we get the option of modifying the story headline and description. Take full advantage of this option and create a spicy, eye-popping headline. Here I must add that you must complement the headline with equally spicy content. A decorated bottle with no wine can backfire, and your story may be buried immediately.


Research/Follow Popular Stories

Spend some time on Digg searching the archives and try to find out which sites are consistently performing well on Digg. Take a look at their content and try to emulate the same. It is one of the best ways to learn the tactics from seasoned players.


Create Strong Network

Needless to say, every vehicle needs a kick-start before it picks up the speed. Unless a reasonably strong network does not support your submitted content, you cannot be assured of the desired results. Spend time on Digg and network with power users. It's as simple as this - 'Digg, Digg and Digg'.


Have Digg Button On Post - PLEEEASEEEE

Ah, made the meal but forgot to put the salt! Put a large visible Digg button beside your post. The best position is either on top (right or left aligned) or at the end of post body. Buttons showing the current Digg count should be preferred over a static image button. The Digg count in button entices the readers to vote. Sometimes, we like some content and decide to Digg it, only to find that no Digg button is present on the web page. This is really annoying and I myself have left many pages, just because of absence of Digg button on the post.

Massively popular content on Digg, not only gets high traffic, but also brings in new subscribers and new back links. Once you get the taste of success on Digg, there is no looking back. Good Luck...

If you enjoyed this article, get email updates (it's free).