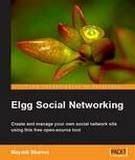 In recent years, Social Media has emerged as a new paradigm for connecting, promoting and building brands and promoting online presence on the Internet. There are many ways to socialize on Internet, and social networks are one of the most popular available option. Some hugely popular social networks like orkut and Facebook have millions of members with thousands of communities coming together on one platform. Recently, Mayank Sharma has released his book entitled 'Elgg Social Networking', available from Packt Publishing which provides in-depth coverage of Elgg, a content management system (CMS) used for building social networks. With over 175 pages and 7 chapters, the book covers almost every aspect related to building and managing your own social network through Elgg. The book can be broadly divided into three parts. viz.,

Elgg setup and basic configuration

Managing, customizing the network

Advanced customization and fine tuning the installation

Elgg requires Apache, MySQL and php combination either on Windows or Unix/Linux platform, and is available free for download. The book 'Elgg Social Networking' is a definitive guide for creating Elgg powered social networks. The first and second chapter of the book takes you to the virtual tour of Elgg, describing all the basic features and options available in the CMS. Elgg is extremely powerful content management system for building social networks, as it gives you the power to create blogs, photo galleries, podcasts, communities and much more, from within your social network.

Third chapter explains profile management and applying access control to profiles. The chapter gives step by step example of creating a profile and applying access permissions to that profile. Elgg has very powerful profile access control mechanism that allows you to choose who can see you and who cannot. The book guides you how to administer, moderate, block, allocate disk quota to user profiles. You can also download the sample chapter three from here.

The power of Elgg can be easily experienced while reading chapter four. This chapter gives in-depth coverage of blogging, podcasting and RSS feed integration in Elgg. Blogging is a popular way to network and socialize, and Elgg tightly integrates this feature allowing the users to blog and share their views, ideas and opinions.

No social network is complete without communities. They are the building blocks of a social network. Elgg has rich set of features to support communities and groups. Chapter five provides detailed information about managing communities. You will learn creating and moderating communities, managing bookmarks, files uploading and sharing and RSS feed distribution within communities.

Chapter six provides advance customization techniques of Elgg. It provides detailed step by step methods of changing and customizing the look and feel of your social network. There are hundreds of themes available for Elgg. You can choose a theme that suits you best. An excellent step by step method in this chapter demonstrates how easily you can change themes in Elgg, and can further customize it to get your desired look and feel.

Today, almost every CMS comes with rich set of plugins, and Elgg too has hundreds of plugins to enhance and add more features to your social network. Chapter seven equips you to further customize and add the most innovative features to your Elgg powered social network by adding feature packed plugins.

Appendix A serves as complete installation guide of Elgg. This section provides easy step by step method of installing Elgg both on Windows and Unix/Linux platform.


Who should read this book?

If you are planning to launch your own public/private social network, then this book is for you. The book will guide you in creating, managing and customizing your own social network by using Elgg CMS. No programming knowledge is required to understand and install Elgg.



Book:

Elgg Social Networking


Paperback:

179 pages


Publisher:

Packt Publishing (March, 2008)


Language:

English


ISBN:

1847192807


ISBN-13:

978-1-847192-80-6
Also available as an e-book from Packt Publishing

If you enjoyed this article, get email updates (it's free).