One of the most important metric in assessing the quality of a blog is 'Subscriber Count'. Whenever a new visitor lands on your blog, subscriber count is one of the factor he/she takes into account before making up the mind for subscribing to blog feed. Of course, quality content is the most important factor in increasing the subscriber count, but apart from that, by applying the following methods and strategies you can dramatically increase your feed subscriptions.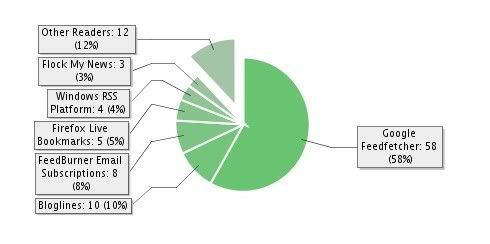 Make Subscription Easy: Sometimes it may happen that your visitor wants to subscribe, but struggle to find the subscription option on your blog. Provide easy to navigate RSS subscription options in your blog sidebar, header and bottom of posts. You can use RSS button images to attract the attention of the visitor.

Provide Various Methods Of Subscription: Some visitors prefer to subscribe via E-Mail, while others prefer subscribing through feed reader. Provide both options to your readers with tool tips on each option.

Give Incentives: Create an e-book and give it free with each new subscription. This method works very well and can increase your subscriber count significantly.

Promote in E-Mail Signatures: Very less number of bloggers use this technique, which is quite effective in gaining new subscribers. Create a subscription widget for E-Mail signature and use it in all your E-Mail communication. It not only attracts new subscribers, but also promote your blog. The widget for embedding in E-Mail can be easily created from your Feedburner account from 'Publicize' tab.

Use Feedsmith Plugin: You can also use FD Feedburner Plugin plugin for Wordpress, to show inflated subscriber count in your Feedburner chicklet. This plugin shows you the real count of your subscribers, who have subscribed to your blog feed through different feed URL's.

Remind Unverified Subscriptions: If you carefully look your E-Mail subscriber list in your Feedburner account, you will find many unverified subscriptions. Export this list in CSV format and create a mailing list of unverified subscriptions. Send a gentle reminder about verifying their subscription. Almost 70-80% will respond positively, resulting in quick increase in your subscriber count.

Display Subscriber Count: Prominently display your subscriber count on the blog. If your subscribers are under 3 figures, I would not suggest you to do the same. Wait till it reaches to 3 figures.

What other methods do you apply to increase your subscribers? Does it include social media marketing?

If you enjoyed this article, get email updates (it's free).